Mold Shuttle System Can Double Injection Molding Capacity
Mold Shuttle System Can Double Injection Molding Capacity
Canon Virginia's system shuttles one mold into position as a second mold cools outside the machine.
When Canon Virginia Inc. (CVI) exhibited its Multi-Mold at NPE 2018, there was keen industry interest in the system, which enabled running two molds on a single machine and potentially doubling capacity without investing in a second press. NPE attendees were intrigued, but they also had some thoughts on how the system could be improved. "We listened to the market and made modifications," said Masato Mori, CVI Vice President and General Manager. The device, now called the Shuttle Mold System, was commercialized in 2019. In the years since, CVI has continued to engineer improvements to the system, which it showcased along with its industrial imaging technology at the recent co-located Plastec West and Medical Design & Manufacturing (MD&M) event in Anaheim, CA.
The cleverly designed Shuttle Mold System runs two molds on a single molding machine. After resin is injected into the first mold, it shuttles the second mold into position, capitalizing on cooling time outside the machine and increasing efficiency, explained CVI. Parts and materials with a cooling time of 30 seconds or longer are ideal for the system, added the company.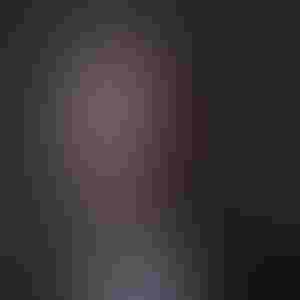 Wayne Daniel, CVI Director of Business Development.
Three machine models are available, each one designed to fit a specific range of injection molding machine sizes, Wayne Daniel, CVI Director of Business Development, told PlasticsToday. The system on display at Plastec West/MD&M West featured recent modifications, including a smaller footprint and improved functionality.
The Shuttle Mold System is compatible with most injection molding machines ranging in size from 250 to 1,000 tons, said Daniel. "CVI works closely with customers during the integration process," he added.
Under the right circumstances, customers can see an overall productivity increase up to 200%, according to Daniel. "CVI has a ROI calculator that can help estimate productivity improvement," he added. "By using two molds at the same time, the system achieves twice the production on a single molding machine in the ideal application. Some productivity improvements can also include, for example, reduced cycle times and increased part volumes."
CVI also featured its vision system technology at Plastec West/MD&M West. Automation has been booming as manufacturers wrestle with labor shortages and rising salaries, and CVI sees that as an opportunity to raise awareness of its industrial imaging portfolio.
In the fall of 2019, it released Vision Edition–U image processing software to support automation on production floors. Vision Edition-U works with the collaborative robots, or cobots, of Universal Robots. Canon is the first Japanese company to obtain UR's certified product platform, UR+, image processing software specially designed for cobots made by UR. In combination with a Canon network camera and linked with a UR-engineered cobot, the software serves as the robot's eyes. During pick-and-place operations, for example, the software ensures there are no missing parts. When the robot places parts on an electronic scale, the software recognizes the digitally displayed weight and verifies that it meets specifications.
Daniel welcomed the opportunity to present the company's technology in person at Plastec West/MD&M West, which "did not disappoint." It was a "great platform for CVI to showcase its advanced methodologies in injection mold making, contract manufacturing, medical contract manufacturing, and aftermarket services." The event is especially valuable for engineers involved in medical product development and high-tech companies seeking solutions, he added.
Plastec West and MD&M West are part of the Informa Markets – Engineering (IME) West event, which also includes WestPack, automation show ATX, and Design & Manufacturing (D&M). The trade show and conference ran from April 12 to 14 at the Anaheim Convention Center in Anaheim, CA.
Sign up for the PlasticsToday NewsFeed newsletter.
You May Also Like
---