Bond3D Introduces 3D-Printed PEEK Spinal Cages
Bond3D Introduces 3D-Printed PEEK Spinal Cages
The 3D-printed implants don't present the stiffness and imaging related challenges of conventional titanium cages, and they enable patient-specific designs.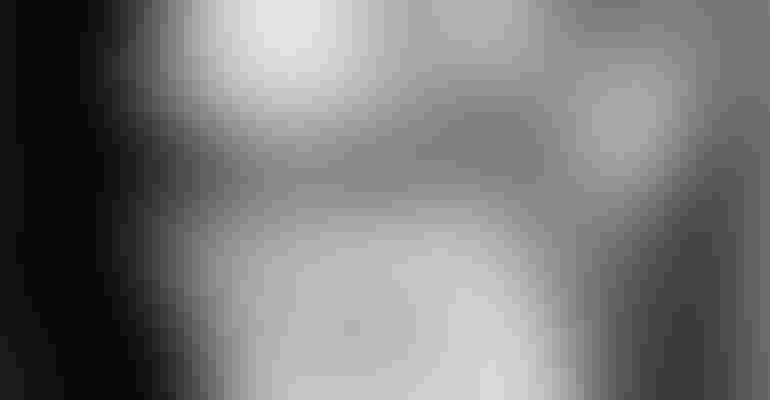 The PEEK-based spinal cage implant printed by Bond3D is translucent under X-rays or CT scans; only the graft material is visible. The fusion, therefore, can be assessed by artifact-free CT/MRI imaging.
Image courtesy of Bond3D
When PEEK became widely available as a 3D-printing material, it changed how the industry looked at polymer-based 3D printing. The high-temperature, high-performance plastic is capable of producing functional prototypes and even end-use parts, taking polymer 3D-printing to a new level. PEEK's strength and longevity elevated some 3D-printing applications to being competitive with technologies such as injection molding.
One area where PEEK 3D printing has made a significant impact is in the medical device industry. The material has been used to print long-term orthopedic, spine, trauma, and cardiovascular implants. Recently, Dutch company Bond3D took the technology a step further with the capability to print PEEK spinal cages.
The spinal cages developed by Bond3D are porous, which permits bone ingrowth. The high-strength devices allow for solid fixation within the body. The patient-specific spinal cages can be produced rapidly, and Bond3D has partnered with Invibio Biomaterial Solutions to further develop them.
"One of the major opportunities for porous implants is in the field of spinal interbody fusion devices, which are used to treat spinal problems in over a million patients each year," said HenkJan van der Pol, CTO of Bond3D.
The PEEK devices aim to improve on porous titanium spinal cages, which present challenges related to stiffness and imaging. One of the goals for the PEEK cages is to allow the fusion to be assessed through artifact-free CT and MRI imaging. The nature of the material is also said to prevent subsidence, or sinking/loss of height of the implant, as PEEK has a modulus similar to natural bone.
3D-printed implants have several advantages over their traditionally manufactured counterparts. One of the main advantages is patient-specific design. Patient scans can be used to design and print an implant that is uniquely, perfectly fitted to the individual patient's anatomy, avoiding pain and complications. In the past few years, 3D-printed implants have been developing and advancing rapidly. Bond3D calls its PEEK devices the fourth generation of spinal cage implants.
The PEEK spinal cages, according to Bond3D, meet biomechanical and biocompatibility requirements for FDA approval. The final steps toward FDA submission are currently being taken with a US-based spinal implant company.
Sign up for the PlasticsToday NewsFeed newsletter.
You May Also Like
---