Printex Transparent Packaging Achieves First 100% rPET Carton
Printex Transparent Packaging Achieves First 100% rPET Carton
Eco-PET 100 cartons are identical to virgin PET and made from domestically sourced plastic.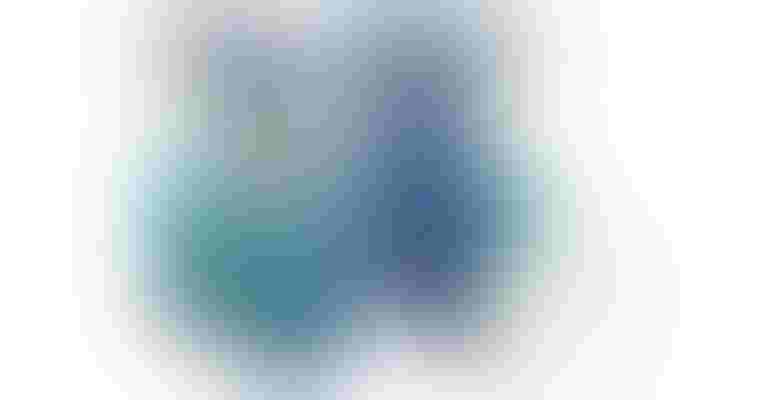 100% rPET carton is available now in customer-specified sizes and a range of decorating options.
PTP
The 100% barrier for post-consumer recycle (PCR) content for transparent recycled PET (rPET) plastic folding cartons has been attained. The new sustainably-enhanced product was introduced by custom plastic box manufacturer Printex Transparent Packaging (PTP), which is the largest such company in North America. The Eco-PET 100 folding carton is made from 100% US- or Canada-sourced recycled PET that's virtually identical to virgin PET.  
Until now, North American PET sheet and film producers offered up to 50% PCR box-grade packaging due to the challenge to produce a clear untinted 100% rPET carton.
"These cartons can help brands to meet their sustainable packaging goals," PTP Marketing Manager Jane White says. "The new carton is itself recyclable, creating a circular economy in the plastic carton market. They can be added to your blue-bin recycling stream [in Canada]."
Technically, the cartons could be recycled in the same stream as PET bottles.
Product markets include cosmetics, pharmaceuticals, health and beauty, wine, spirits, and other beverages as well as club store and promotional packs. White believes the first Eco-PET 100 carton application will be for a cosmetics brand.
"I expect quite a bit of interest in this new carton," says White. "Every company is looking to be more sustainable, and brands are pleased they have this new choice."
According to White, PTP offers printing and decorating options for the "entire carton surface" such as full-color CMYK, silk screen, embossing, cold foil, textures, and other techniques. Customers should confirm the techniques used do not affect recyclability.
Technical and cost hurdles.
Eco-PET 100 represents PTP's 12-year progression through increased percentages of PCR.
"Our Eco-PET 25 carton was introduced about 12 years ago followed by Eco-PET 50 about 5 years ago," White explains.
Previously, the clarity and quality required for plastic box-grade material was not commercially available in 100% PCR and to achieve that was very expensive. The deterrents to its viability were both price and aesthetics. After significant product development and testing, the quality difference to virgin material is essentially indiscernible visually.
As well, the economics of producing this material and bringing it to market at a price point that is more in line with many companies packaging budgets compelled PTP to purchase the 100% rPET sheet in substantial volume. PTP leveraged the buying power of its two manufacturing plants dedicated to clear PET packaging to justify high-volume runs to keep costs competitive.
"It's more expensive for our sheet supplier to extrude the 100% PCR material than virgin PET," White points out, "but as more companies like Coca-Cola use PCR content that will drive the price down."
More information about the Eco-PET 100 carton is available at the PTP site.
Sign up for the PlasticsToday NewsFeed newsletter.
You May Also Like
---