Demand for vinyl steps up, as U.S. consumers flock to hard-surface flooring
Demand for vinyl steps up, as U.S. consumers flock to hard-surface flooring
Demand for hard-surface flooring in the United States is forecast to advance 6.1% per year to 11.3 billion square feet in 2019, valued at $16.7 billion, according to a new study from the Freedonia Group (Cleveland, OH). As building construction and improvement and repair spending increase under a recovering economy, hard-surface flooring as an alternative to traditional installed carpeting continues to gain converts. Vinyl and its luxury vinyl tile (LVT) subset are expected to post the most rapid gains in demand, says Freedonia.
The residential market accounted for the largest share of hard-surface flooring demand in 2014 and it is expected to post the fastest growth through 2019. Gains in housing completions will spur demand in the new housing segment, while homeowner makeovers will support replacement and remodeling demand. According to analyst Matt Zielenski, "Consumers are showing interest in using hard surface flooring in rooms—such as living and dining areas—where carpeting has predominated in the past. In these cases, products such as hardwood, vinyl and decorative tile benefit from their long lifespans and pleasing appearance."
In the nonresidential market, double-digit annual advances in office and commercial construction will boost demand for hard-surface flooring. Shopping malls and office buildings often specify hard-surface flooring because of its durability and slip resistance. Increasing use in the institutional segment will also support demand, as owners and managers of healthcare and educational facilities install hard-surface flooring because it requires minimal maintenance and generally does not affect indoor air quality.
Among all hard-surface flooring types, vinyl flooring is expected to post the most rapid gains in demand, driven by the increasing use of LVT. Consumers in both the residential and nonresidential markets increasingly will install this material because of its glossy surface and its ability to mimic more expensive materials, such as hardwood flooring and decorative tile, says Freedonia.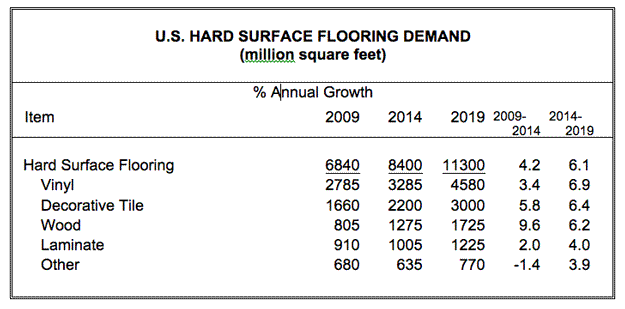 Sign up for the PlasticsToday NewsFeed newsletter.
You May Also Like
---