Hickman's Family Farms introduces egg cartons made from 100% recycled PET
Hickman's Family Farms introduces egg cartons made from 100% recycled PET
In addition to clear PET bottles, the egg cartons also use recycled green and amber PET, an underdeveloped portion of the market.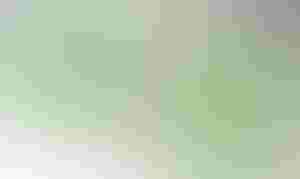 Egg cartons have evolved over the years from paperboard to EPS foam. Now comes the next—sustainable—link in the evolutionary chain: Egg cartons made from 100% recycled PET from water and soda bottles. Hickman's Family Farms, an egg producer near Phoenix, AZ, just introduced the newly designed 18-count RPET egg carton to stores in Arizona such as Costco.
Global Plastics Inc., a vertically integrated recycler located in Perris, CA, takes in the baled recycled PET bottles from buy-back centers through the California Redemption Value program, which pays consumers a nickel for every PET bottle they redeem, and they bring in a lot: California's recycling rate is around 90%. Global Plastics recycles approximately four million bottles a day, which are sorted by color and ground and washed to FDA standards to ensure clean recyclate. The company then pelletizes the material and extrudes the sheets for use in thermoforming.
Dan Bahou, whose father founded Global Plastics Inc., said that he's "been in bottles" all of his life. The company started out as a bottle recycling center and grew to become a producer and reseller of RPET thin-gauge sheet to thermoformers. "We were eco-friendly before it was cool," Bahou said.
One of the problems that confronted Global Plastics is what to do with the green and amber PET bottles. The company's customers tend to want clear RPET.
Bahou had an idea for an RPET egg carton that he pitched to Hickman's Family Farms. "They're a family business like ours, and were really open to the idea of RPET egg cartons in green and amber as well as clear," Bahou told PlasticsToday in a telephone interview. "They opened the door for us to find a home for green and amber PET bottles that require no color additives—just the color of the bottles."
Working with a packaging designer, along with Billy Hickman and his brother Glenn from Hickman's, Bahou developed the 100% post-consumer RPET egg carton. The innovative design for the egg carton includes "lock-in" support pillars that offer protection for the eggs by allowing them to be fully beneath the lid of the package. Additionally, the bottom of the egg rests in a perfectly formed raised indentation for added protection. Additionally, the transparent package eliminates the need for the customer to open the carton to inspect the eggs. These features have reduced egg breakage as well as damaged packaging.
"This was really our first big leap into in-house thermoforming," said Bahou. The company also makes a 100% post-consumer recycled lettuce package for Taylor Farms.
"The really big takeaway is that Hickman's opened up space to provide a use for green and amber bottles when there was not much use for them before. It was a very underdeveloped portion of the market," said Bahou.
The 18-pack is already in stores in several western states and Hawaii. A 12-pack will be released next and, in the next few weeks, a 24-egg carton will be coming to store shelves. White eggs will be packaged in the green and clear cartons, while brown eggs will be packaged in the amber cartons.
Bahou is excited about this new product. "The goal is to recover those post-consumer bottles so they don't end up in landfills or the ocean," he said. "The point of this package isn't just a gimmick. Hickman's wants to get ahead of the game in egg packaging. With EPS on the way out because of its general inability to be recycled, Hickman's is being very forward-thinking. And they're also supporting recycled packaging—they have an outlet for RPET.  It's great to support recycling but if we don't create an outlet, the materials go into a black hole."
Sign up for the PlasticsToday NewsFeed newsletter.
You May Also Like
---