Lots of parts—and 190 tons of scrap—produced by NPE exhibitors
Lots of parts—and 190 tons of scrap—produced by NPE exhibitors
All plastic processing plants produce scrap along with their parts, and NPE this year was no exception. With injection molding machines and blow molding equipment running all day for nearly more than four days, producing a variety of parts—some of them quite large—scrap was to be expected. At NPE2015, 82 exhibitors participated in the program to recycle processing scrap generated on the show floor. That was twice as many exhibitor than at NPE2012, causing a dramatic increase in the amount of material collected for recycling, SPI announced.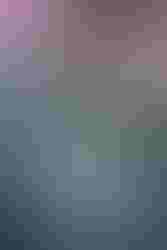 Commercial Plastics Recycling (CPR), the official recycling company for NPE2015, collected, sorted and recycled 191 tons of processing scrap, which was 62% more than was collected at NPE2012, and 235% more than at NPE2009. SPI noted that as the show has grown and the amount of scrap has increased, the recycling program has increased its capacity, ensuring plastics scrap is being managed properly.
"We reached out to exhibitors well in advance of NPE2015 to find out their needs and get a clear idea of how we should prepare," said Paul Benvenuti of CPR. "Another big help was having our containers and trucks on site during setup since machines were being operated and generating scrap well before the start of the show."
Altogether, NPE2015 generated 518 tons of waste at the Orange County Convention Center, including both processing scrap and post-consumer waste. Of the total, 452 tons, or 87%, was recycled. CPR reclaimed the processing scrap at its recycling facility in Tampa, FL, and through a contract carrier, the Orange County Convention Center arranged for recycling of post-consumer waste. All of this was driven by NPE's Recycling Committee, comprised of representatives from companies exhibiting at NPE2015, and SPI's director of operations, Lori Campbell.
"SPI and the plastics industry's commitment to reduce, reuse, or recycle was a significant focus of the show, and we believe our recycling efforts were a realization of that commitment," said Bill Carteaux, SPI's President and CEO. "As the leading trade event in plastics, we needed to model the appropriate behavior, and thanks to the efforts of our recycling program partners, we were able to do just that."
This was truly a great effort. When you see the mountains of plastic parts being made—everything from clear preforms for bottles to chairs to all types of containers, toys and more—you understand the amount of plastic material that plants use each day. While people attending the NPE always enjoy gathering up all the molded freebies to take home, it's good to know that the leftovers get recycled.
If the industry ever wants the general public to understand the nature of plastics and the value of the materials, the industry has to set a good example. That's what we did at NPE2015.
Sign up for the PlasticsToday NewsFeed newsletter.
You May Also Like
---