Mono-material barrier film solution promises to take on aluminum
Mono-material barrier film solution promises to take on aluminum
O2X from Singapore's Aegis is a hybrid solution that can be applied with a rotogravure printing roller.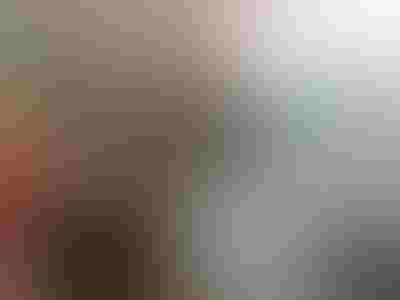 Mono-material packaging solutions with barrier properties approaching that of traditional structures such as those employing aluminum foil could be the holy grail of sustainability. One Singapore startup — Aegis Packaging (Hall 7, Level 2, A01) — says it is close to achieving this lofty goal with its O2X barrier layer product.
Orientation of polyethylene film coupled with a thin polymer-ceramic hybrid barrier layer, is the key to achieving mono-material packaging structures.
According to Tan Swee Ching, Vice President, Sales at Aegis, O2X is a hybrid solution comprising polymeric and ceramic components dispersed in water that can be applied onto a base film using the first roll of a rotogravure printing machine. "This forms a 0.25-micron-thin coating that delivers a barrier [both oxygen transmission rate (OTR) and water vapor transmission rate (WVTR)] of 0.25 when sandwiched between a BOPP film and MCPP film. The "M" in MCPP refers to an aluminum-metallized cast PP film but Tan says the low level of metallization is such that the film is translucent and does not affect the properties of the recycled material to the same extent that the printed layer would in any case.
"Barrier properties are on a par with a PET/aluminum foil/polyethylene structure," says Tan, which would require two dry lamination lines. "While most sustainable solutions are associated with higher cost, we find that overall our solutions works out 10–15% cheaper than aluminum-based option," he adds. Further, the barrier component will not affect properties when the packaging is recycled according to Tan. Mono-material structures are defined by European collaborative consortium CEFLEX as containing 90% or more of polyethylene or polypropylene, with the remaining 10% allowed to be other materials that will not affect properties when used in recycled application.
The above structure assumes application  in 50-g of larger sachets for instant coffee powder mix. Aegis also cites a 100-g-plus standing pouch for nuts where the traditional structure is PET/oriented polyamide/aluminum foil/PE, with an OTR of 2X/MOPP/CPP structure realizes the same barrier properties. A transparent alternative consisting of BOPP/ O2X/BOPP/CPP boasts OTR and WVTR of Aegis is also working with resin supplier and converter partners to develop barrier solutions based on biaxially-oriented polyethylene (BOPE)/CPE. Such structures should potentially have the requisite strength to replace multi-material solutions that traditionally employ polyamide for strength and stiffness.Blown-film extrusion line supplier Reifenhaüser (Hall 17, C22) is another company working on mono-material solution incorporating oriented PE. The has developed a blown film line with a machine direction orientation (MDO) unit mounted on the top that makes an OPE layer with enhanced strength, enabling elimination of the polyamide layer. The company's Ultra Flat Plus stretching technology also significantly enhances film surface flatness, enabling better printing quality to be realized.
Sign up for the PlasticsToday NewsFeed newsletter.
You May Also Like
---