Historic Bike Brand Rolls with 3D-Printed Suspension Component
Historic Bike Brand Rolls with 3D-Printed Suspension Component
Startup 9T Labs replaced the aluminum rear suspension rocker arm on the Saroléa motorcycle with a carbon-fiber composite, cutting weight in half.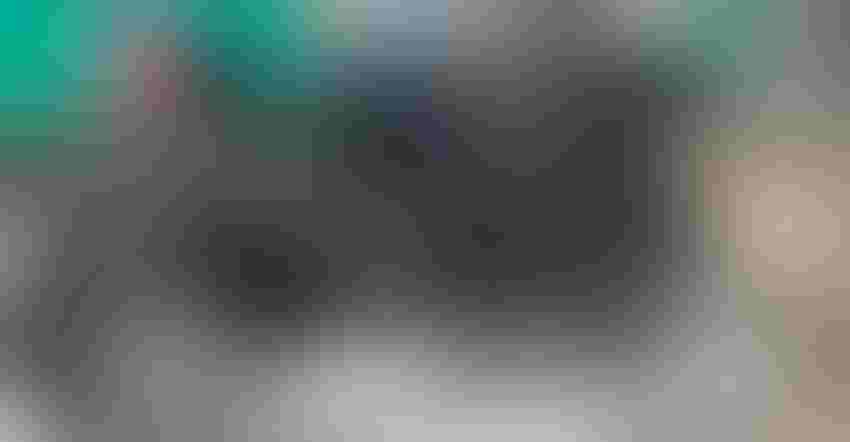 Image courtesy of Stephen Moore
Swiss 3D-printing company 9T Labs is giving the Saroléa MANX7 superbike a leg up by fabricating the motorcycle's rear suspension rocker arm from 3D-printed carbon-fiber-reinforced thermoplastics, achieving a part weight that is 50% lighter than cast aluminum. Saroléa is a historic Belgian brand that ceased operations in 1963 and was reborn in 2008 primarily to build electric bikes, including racing bikes to compete in the Isle of Man TT Zero Race.
9T Labs' hybrid 3D-printing/electric compression molding process combines optimized continuous-carbon-fiber preform placement in a compression mold, followed by overmolding of the matrix resin, in this case with polyetherketoneketone (PEKK) from Solvay, which also has a stake in the startup. The part also combines metal inserts (bearings) that are pre-placed in the compression mold.
The rear suspension rocker arm, with a print size of 350 (L) x 270 (W) x 250 (H) mm, weighs less than 100 grams minus the bearings and costs 37% less to produce based on a production run of 8,000.

A rear suspension rocker arm printed with carbon-fiber-reinforced thermoplastics is 50% lighter and cheaper to manufacture than the metal precursor.
In a presentation at K 2022, 9T Labs Sales Manager Arne Büttner presented more details about the company's process, including its capability to strategically combine neat thermoplastic chopped fiber sections in a compression mold using FDM extrusion to work in combination with the carbon-fiber reinforcement. "Continuous fiber UD tape is also an interesting area for us as we can slit the tape to a narrow width, measuring in the millimeters, for placement in the tool," he added.
9T Labs also offers a full service for customers seeking to convert aluminum parts to plastic, starting with its Fibrify Design Suite employed to adapt a metal part to an optimized composite design. Fibrify software imports CAD files and runs finite element analysis (FEA) simulations. When that is coupled with 9T Labs' manufacturing execution system (MES), the production of high-performance carbon-composite parts is said to be "a simple click away." Added Büttner: "We are also molders in our own right for customers not ready to invest in production equipment."
9T Labs also addresses part porosity with its hybrid 3D-printing/compression-molding process. "Typically, 3D-printed parts have 10% porosity and 50 to 60% of the strength of a molded part," said Büttner. The 3D-printed preforms are typically thermoformed prior to placement in the compression tool not only to generate a 3D form factor, but also to consolidate the reinforcing insert. In the tool, multiple preforms can be fused together.
In terms of new applications, aerospace is particularly promising according to Büttner, with overhead bin brackets, seat structures, and door hinges for helicopters up for metal substitution. "We are also looking at surgical instruments and luxury watch bezels," he added. "One of our key selling points is incorporating 3D complexity into components. We can also add functionality by incorporating sensors, for example," he concluded.
Sign up for the PlasticsToday NewsFeed newsletter.
You May Also Like
---