Cryogenic solutions to plastic part deflashing and deburring
Cryogenic solutions to plastic part deflashing and deburring
Cryogenic solutions for deflashing and deburring plastic parts is becoming an increasingly popular method for removing flash, burrs, and gate vestiges in molded or machined components. Typical removal methods of these residual burrs or flash, including hand-cleaning each part individually with an X-Acto knife, are time consuming and costly.
According to Jordan Anderson, Account Manager for Nitrofreeze Cyrogenic Solutions, which began operations in 2004, one of the primary advantages of the Nitrofreeze Cryogenic technology is that it turns flash and burr removal into a batch process in which anywhere from 10 to 1000 pieces (depending on size) can be deflashed at once.
In the cryogenic process, liquid nitrogen is flashed into the machine's chamber, which contains the basket of parts. The temperature of the machine is computer controlled and preprogrammed based on the material needing to be deflashed or deburred; temperatures can drop to as low as -125°F. Once the desired temperature is reached, the parts are tumbled and blasted with polycarbonate media to remove the unwanted flash, burrs, or gate vestiges.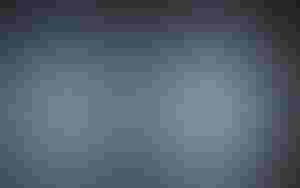 "This process is typically performed on small and high-volume parts that are almost impossible to deflash or deburr by hand," noted Anderson. "Compared to hand trimming, our process can reduce labor rates as much as 50%. You can imagine how long it would take to remove burrs measuring 0.008 in. with a microscope and an X-Acto knife."
Additionally, it ensures better part quality by eliminating human error, thus making the Nitrofreeze Cryogenic technology a very cost effective solution.
Nitrofreeze also offers a dry-ice deburring and deflashing process. "This is typically used on high-value, low-volume parts with hard-to-reach burrs or flash, such as deep through holes in a manifold," explained Anderson. "We'll use the dry ice blaster with a very small nozzle. With the kinetic energy of the dry ice media and the air, all the burrs are removed with no possibility of cross contamination of residual particulates."
Nitrofreeze offers both methods of deflashing and deburring as either a service provider or contract cryogenic service to its customers. The company's external services division sends mobile technicians and equipment to handle any sized project at a customer's location. Additionally, Nitrofreeze sells or rents the equipment that comes in sizes ranging from benchtop models to mobile machines on wheels to do the work press-side.
Sign up for the PlasticsToday NewsFeed newsletter.
You May Also Like
---