PLASTEC East stands at crossroads of plastics innovation
PLASTEC East stands at crossroads of plastics innovation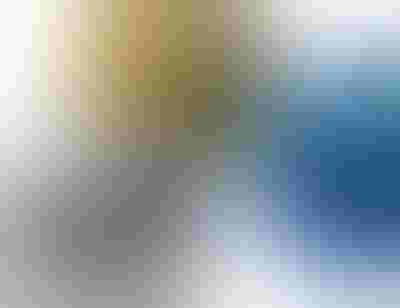 From medical-grade plastics-processing equipment and next-generation robotics to environmentally sound coating systems and precision injection molding services, PLASTEC East and co-located events provide attendees with an opportunity to source and compare multiple design and manufacturing solutions under one roof.
Plastics technology will be front and center at PLASTEC East, which returns to the Jacob K. Javits Convention Center in New York City on June 14 to 16, 2016, but it will also spill over into the co-located Medical Design & Manufacturing (MD&M) East, Atlantic Design & Manufacturing, EastPack and ATX (Automation Technology) events. Plastics, as we like to say, make it possible, and that is true in life-saving medical devices, packaging and countless consumer products. All of that, and more, will be represented at the East Coast's only advanced manufacturing event.
For more information and to register to attend PLASTEC East, click here. And don't forget to use the promo code NY16PT to receive free expo admission and a 20% discount on conference passes.
The event also features a full slate of conference sessions, where experts in their fields discuss such top-of-mind topics as Industry 4.0 and innovations in packaging materials. Each day begins with a provocative keynote presentation: Astronaut Leroy Chiao, former Dyson CEO Martin McCourt and über hacker Kevin Mitnick are scheduled to speak.
Still on the fence? Then, read on for a sampling of PLASTEC East exhibitors that await you on the show floor. 
Conair showcases medical-grade auxiliary equipment
The Conair Group (Cranberry Township PA) will exhibit auxiliary equipment drawn from its MedLine product family at booth 532. The drying, blending, material conveying, heat transfer and downstream extrusion equipment was developed to help medical plastics processors select, install, commission and start up white rooms and cleanrooms faster and with less paperwork.
Based on proven Conair designs, the Medline equipment has been specially sized, configured, documented and supported for use in cleanrooms and other controlled environments. Only ISO 14644–compliant equipment and materials are used; depending on application requirements, machine surfaces may be powder coated in RAL 9003 signal white or made from stainless steel. All equipment is supplied with a quality and regulatory compliance package aligned with ISO and FDA requirements. 
"What we are offering the medical plastics industry is peace of mind," says Matthew Zelkovich, General Manager, Medical. "When customers select a piece of equipment with a MedLine label, whether it is designed from the ground up for cleanroom applications or as part of our standard product line, they can be sure it has been pre-evaluated, pre-configured, pre-calibrated and is suitable to meet the requirements necessary for compliance with applicable standards." 
Bole exhibits toggle clamping injection molding machine
Bole North America (Phoenix, AZ), the exclusive distributor for Ningbo, China–based Bole Machinery, will exhibit a molding machine from its EK series of center-clamping toggle machines in booth 429 at PLASTEC East.
Bole Machinery manufactures precision injection molding machines with clamping forces between 60 and 6800 tons.
The toggle design of the EK series, which concentrates clamping forces near the center of the moving platen, eliminates external bending to protect molds and improve accuracy, while reducing the load on hydraulic pumps and saving energy. The design also helps prevent flashing when small molds are used in larger machines. Floating tie-bars reduce spring deformation between tie-bars and increase clamping precision. 
The BL120EK has 135 U.S. tons of clamp and a 17-inch opening stroke, which is 10 to 20% larger than comparable machines, according to the company. Platens are 27 by 24.5 inches and space between the tie-bars is 18.11 by 16.4 inches. Three injection units are available, with shot weights of 6.6, 8.2 and 10.3 oz.
Temperature regulation helper
At booth 628, celduc relais (Sorbier, France), a manufacturer of solid-state relays (SSRs), will present its new ECOM0010 module that plugs into a 22.5-mm-pitch SSR. Features include:
Temperature regulation with selectable input for J, K, T and E thermocouples (PT100 is coming soon);

auxiliary output to regulate heating and cooling with air, water and oil profiles and separate cycle settings;

daisy chain connection with RS485 MODBUS RTU serial communication;

and current monitoring from 2 to 50 A with alarms.
A reduction in the control wiring and the size of the PLC through fewer digital and analog I/Os result in an overall size and cost reduction of the electrical cabinets and enclosures.
The device has applications anywhere temperature regulation is required, such as plastics processing machinery, hot runners and chillers.
Chrome plating without harmful compounds
Vergason Technology Inc. (Van Etten, NY) will highlight its SC660 SuperChrome sputtering system and SuperChrome PVD coating at booth 634 during PLASTEC East. The SC660 system features a coating zone measuring 660 mm diameter and 1220 mm in height, allowing for increased batch sizes at price points that are reportedly 10% to 20% lower than traditional chrome plating. The coating offers all of the benefits of decorative chrome plating without harmful hexavalent chromium (CR +6) compounds.
SuperChrome has a rich chrome appearance, is durable and does not require a top coat. It meets or exceeds European standards for interior and exterior automotive applications and significantly outperforms traditional chrome plating in the Russian Mud Test, according to Vergason. 
The first SC660 SuperChrome sputtering system was recently sold to a Tier II European automotive component supplier, reports the company.
Molder provides opportunities for disabled
Coarc Contract Manufacturing (Mellenville, NY) at booth 338 has been offering custom plastic injection molding services for more than 25 years, and has earned a reputation for workmanship, on-time performance and dependability. Certified to ISO 9001:2008, the company provides plastic injection molding services to the medical, consumer, industrial, and high-tech sectors. Truth be told, many PLASTEC East and MD&M East exhibitors could make similar claims, but there is something that really makes Coarc Contract Manufacturing unique: it provides employment training and opportunities for individuals with disabilities.
A not-for-profit subsidiary of Coarc Inc. and part of the statewide association NYSARC Inc., Coarc Manufacturing helps individuals with disabilities to achieve their specific goals.
"We presently employ more than 125 individuals in a variety of contract manufacturing tasks, ranging from injection molding to assembly and packaging," notes Penny Rodden. "Our focus is on providing meaningful, fulfilling jobs and maximizing each individual's desire and skill. Disability does not mean poor quality work—project tasks are individualized to each employee's unique strengths and abilities." 
The company applies stringent quality standards before, during, and after the injection molding process to ensure total customer satisfaction.
Single system applies multiple surface finishes
Vapor Technologies Inc. (Longmont, CO) will feature its new line of thin-film surface finishing equipment at booth 541 at PLASTEC East. The Innovative Cadence Flex systems were designed to address market demand for a single system capable of depositing a variety of durable surface finishes. Applications that require high-performance functional and durable decorative surface finishes will benefit from the atomically bonded, thin-film, metallic coatings applied by physical vapor deposition techniques. Cadence Flex systems adapt to manufacturing workflow requirements and integrate efficiently into a range of manufacturing operations. 
The compact system easily integrates into factory environments. 
Sign up for the PlasticsToday NewsFeed newsletter.
You May Also Like
---