Breakthrough Bioprinting Tool Enables Fabrication of Thin-Walled Cylindrical Implants 53285
Breakthrough Bioprinting Tool Enables Fabrication of Thin-Walled Cylindrical Implants
Tubular devices with complex, structured walls have been challenging to produce with regenerative materials using existing bioprinting technology.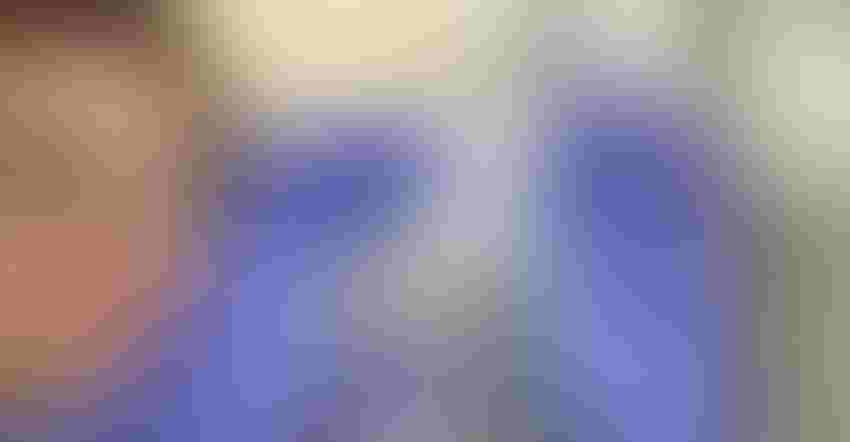 Nicole Black, VP of Biomaterials and Innovation at Desktop Health, examines two tubular medical devices printed on the new 3D-Bioplotter PrintRoll rotating build platform.
Businesswire/Desktop Medical
A newly developed rotating build platform for a bioprinting system can produce tubular devices for vascular, digestive, respiratory, and reproductive channels. The breakthrough technology enables the creation of thin-walled cylindrical devices with complex, structured walls, which has been challenging to accomplish with regenerative materials until now, according to Desktop Health, the medical 3D printing brand of Desktop Metal Inc. 
The PrintRoll platform attaches to the modular build plate of the 3D-Bioplotter, an extrusion-based 3D printer that processes liquids, melts, pastes, gels, and other materials, including cells. The PrintRoll tool features a motor-driven rotating mandrel with a spring-loaded drum. Rotating speed is tightly controlled by the 3D-Bioplotter's software.
As the PrintRoll tool rotates, the printhead moves back and forth depositing material on the surface in the desired design. For example, medical-grade polycaprolactone (PCL), which is used in many FDA-cleared implants and devices, hardens quickly on the drum after the melted material has been deposited.
In bioprinting, users typically produce a structure or scaffold in a stiff or flexible biocompatible material that is designed to repair and integrate with cells of the body, sometimes degrading after a certain period of time, explains Desktop Health in a news release.
The PrintRoll comes with a 10-mm-diameter drum – 20- and 40-mm sizes are also available – designed to accommodate the development of devices for a variety of human channels, which vary based on age and gender. The human body contains multitudes — thousands of miles of channels, according to Desktop Health! Standard diameter sizes generally correspond to the diameters of the femoral artery (~10 mm), trachea (~10 to 20 mm), fallopian tube (~5 to 15 mm), aorta (~25 mm), esophagus (~30 mm), and a range of intestinal segments (~40 to 100 mm). 
Hollow cylindrical structures up to 140 mm in length can be printed, depending on the printhead used, and custom sizes also may be available.
"With the PrintRoll, materials are patterned directly on top of a substrate that rolls as the printhead also moves, supporting the deposited layers and, therefore, expanding the palette of materials that can be 3D printed into these important structures," said Nicole Black, PhD, VP of Biomaterials and Innovation at Desktop Health. "Following printing, devices can be removed from the PrintRoll, leaving high-resolution and reproducible parts that customers have come to expect from the 3D-Bioplotter."
Considered the Cadillac of bioprinters, the 3D-Bioplotter extrudes materials through a needle tip on a Swiss-made, 3-axis gantry with high accuracy and temperature, sterility, and design controls, said the company. Eight printheads are available with reportedly the widest range of temperatures in bioprinting, from 2° to 500°C (35.6° to 932°F), enabling the production of complex, multi-material medical parts.
The PrintRoll, which comes with a library of honeycomb designs, has been in development since 2019 as part of a collaboration with Johannes Gutenberg University Mainz, a public research university in Mainz, Germany.
The PrintRoll platform, which is compatible with the fourth generation 3D-Bioplotter models, is available for pre-order now, with shipping expected in the fourth quarter. Contact Desktop Health to learn more.
Sign up for the PlasticsToday NewsFeed newsletter.
You May Also Like
---