Save energy this winter and thereafter
Save energy this winter and thereafter
Plastics processors, through their own volition or with a gentle push from government or customers, are increasingly concerned with measuring the amount of energy they use and finding ways to cut that consumption. The good news is there are a growing number of resources to help them do just that.
Plastics processors, through their own volition or with a gentle push from government or customers, are increasingly concerned with measuring the amount of energy they use and finding ways to cut that consumption. The good news is there are a growing number of resources to help them do just that.
Tim Stojka's energy epiphany came at his desk as he cut a sizable check for his company's monthly utility invoice. "I was looking at the bill and I said, 'I don't even know where this went,'" Stojka explains. "It was kind of like signing a credit card bill with no detail." CEO at hot runner temperature control manufacturer Fast Heat Inc. (Elmhurst, IL), Stojka decided his business, and others, could greatly benefit from knowing where and when energy was used. "You've heard the old mantra: If you can't measure it, you can't manage it," Stojka says. "That's what's happening with electricity. People just get this bill at the end of the month and there's no way to really A) understand and B) measure it, so they can manage it."

Seeking to provide what he calls "energy visibility," Stojka officially launched Agentis Energy in June at NPE2009. Using wireless sensors to track energy usage, and then sending the data to a Web-based application, Agentis is aiming to help processors better manage what is often their second-highest cost, trailing only material.

"Processors manage resin very closely but energy's kind of been one of those things that they have, as I did, treated as a fixed cost," Stojka says, "and the only way to take it from a fixed cost to a variable cost is to measure it. If you can measure it, then you can start to set budgets for it, hold people accountable, figure out where your high energy users are, and focus on energy efficiency and improvement."

Stojka says the company has fully functioning systems at a range of processing facilities, including injection molding, extrusion, and blown-film plants, with the initial installations dating to spring of this year. The technology itself has two different models. The first involves inline sensors, where a microchip is connected inline with the power source. The second applies a current transformer, or essentially a ring that encircles the main line and measures current and voltage.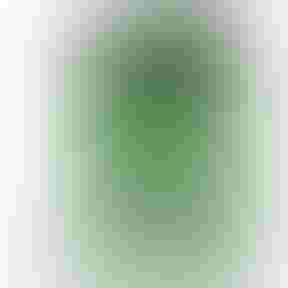 Power Efficiency's motor efficiency control acts as a soft starter and energy regulator, taking the place of an existing starter, or being installed in series.
From managing energy to cutting it
Using technology originally developed at NASA, Power Efficiency Corp. (Las Vegas, NV) is hoping to help processors cut energy usage by matching the voltage intake of electric motors to the current load. The company's patented E-Save technology promises energy savings up to 40% on constant-speed/variable-load equipment like granulators, crushers, escalators, and conveyors. Customers in the plastics realm include Berry Plastics, Graham Packaging, and Ball, with Berry installing 28 motor efficiency controls on 24 granulators at its Anaheim, CA facility. In that instance, the local electric utility determined Berry's annual energy consumption would be cut by more than 195,000 kWh.

The unit works by monitoring the current's phase lag and voltage relationship (where kW = volts times amps) in a motor operating at less than full mechanical load. The control cuts back the voltage to precisely what the motor requires to maintain the rated speed and torque under the present load. In addition to reducing the electricity consumed, Power Efficiency says motor life is increased.

The original idea for a three-phase power factor control with induced electric and magnetic fields sensing was developed by Frank Nola, who at the time was an engineer at NASA's Marshall Space Flight Center. NASA patented the technology in 1984, with Power Efficiency later licensing it. In January 1997, Power Efficiency filed a patent application for a new phase-detector technology, which has since been accepted, with three more applications pending. That patent deals with modifications the company made to address engineering changes in the manufacture of AC induction motors.

Jay Mistry, director of business development at Power Efficiency, says good candidate applications are ones that have constant speed and load variability, so that at certain times they're idling or at low load value. The company hints at its potential market by citing U.S. Dept. of Energy data saying U.S. industrial customers spend more than $60 billion annually on electricity, with motors consuming better than 60% of that total. Many motors are operating at light or variable loads, meaning they are wasting energy and are potential candidates for savings. To date in plastics that's meant size-reduction equipment, although the company is conducting tests on some primary processing equipment.

Charged up
According to Mistry, and others contacted for this article, energy efficiency is a cause whose time has come. At different times, most notably during the 1970s oil embargo, countries and industry have claimed to have found religion in regard to conservation, only to lapse back into energy apathy, but the current focus is driven by a factor that carries greater currency than eco-consciousness.

"I'm going to cite you two time periods," Mistry says. "One is now and the other is the late '70s, early '80s. Back then, when this technology was out, there was interest in it, but the cost per kilowatt was like $0.03 or $0.04, so the actual amount of cost savings that you got was minimal, and as a result of that, it wasn't much of a focus. Today, those energy costs continue to rise—look at Southern California—you've got areas that are paying $0.20-$0.24/kWh. That's crazy. So right now, there's no question there's a focus by companies, and the overall environment is more geared towards energy savings."

Steve Petrakis, president of cooling system supplier Frigel North America (East Dundee, IL), has seen a similar sense of urgency. "Corporations, especially larger ones, actually have edicts out that say, 'All right, this year, as a corporation, we have to lower our energy costs by 20%,'" Petrakis says. "So the first thing they do is run around and change all the light bulbs in the building, and that helps a little bit, but once you get through your first year, the next year, you say, 'OK, now we need another 20%.' Now you've got to start looking seriously, and you've got to start looking at your equipment."

Frigel markets what it calls Intelligent Process Cooling, where ambient air is used to cool clean process water. Its Ecodry uses a closed-circuit fluid cooler instead of a traditional cooling tower, with water returning from the process pumped into heat exchangers and cooled with ambient air flow. Ecodry can be used in conjunction with a Microgel chiller/temperature control unit (TCU) combo or Turbogel TCU to obviate the need for central chilling systems. At NPE2009, the company introduced and upgraded Ecodry, which used changes to software and design to boost energy efficiency by an additional 10%. It also introduced the Ecoflex central chiller, which uses Turbocore technology where electromagnets propel the drive shaft, which essentially floats, cutting system friction and energy needs.

"Whether they're prepared to do it or not, I think everybody is starting to understand that this is the technology of the future," Petrakis says. "Cooling towers will eventually go away. We've been fortunate that in the U.S. we've always had plentiful water, relatively inexpensive water, and relatively inexpensive energy, but now that's changed."

The fixation on energy extends to all power consumers on a plant floor, including dryers, a fact that hasn't escaped Jamie Jamison, dryer product manager at auxiliary supplier Conair (Cranberry Township, PA). "Typically, [energy efficiency's] the first thing we seem to get asked about by customers—how our equipment is energy efficient, things we can do with our designs for energy efficiency," Jamison says.

"Most of the customers have specific task forces or groups assigned to determine how they can cut costs," explains Gene Flockerzi, general manager PET and packaging at Conair, "and with that, energy's the first thing that comes to mind." For Conair, that customer interest has driven several advances, including its EnergySmart drying line, which features a temperature monitor inside the hopper to gauge the amount of heating and blowing needed, as well as a dewpoint control, which accounts for changes in the ambient atmosphere and adjusts drying parameters accordingly.

Flockerzi explains that a typical drying system would be sized to accommodate the maximum throughput of machine it's supplying resin to—a standard that's often overkill. "I'm going to say 95% of the time the customers aren't even running near maximum throughput," Flockerzi says. "So with our system, we're able to dial the dryer down so it meets the actual extruder or injection molding machine's output. That way, no matter what throughput you're running at, you're utilizing the least amount of energy possible for that application."

Maguire Products Inc., which supplies three varieties of drying systems from its plant in Aston, PA as well as from its subsidiary, Novatec, in Maryland, promotes energy efficiency as a priority in all its systems, including Maguire's LPD low-pressure vacuum dryer and hot-air, desiccant, infrared, and membrane dryers from Novatec. The company believes three systems in particular—the NovaDrier compressed air unit, NovaWheel regenerative desiccant, and LPD vacuum—offer high efficiency, especially when compared to twin-bed desiccant systems.

Plastics equipment supplier Wittmann Battenfeld has experienced the same spike in inquiries regarding energy efficiency, with UK managing director Barry Hill saying the company is now regularly deploying its own bespoke energy-measuring service for customers and potential clients. The system shows processors their consumption pattern for existing machines, as well as projected consumption. These data are used to show potential savings that can be made by switching to current models, factoring in financial incentives such as the UK's Carbon Trust.
 
Wittmann Battenfeld UK has also initiated an old-for-new machinery trade-in package for injection molding machines. In a release, Hill said reducing energy usage starts with measuring it—a task that will become compulsory, in his opinion. "There is no question that all of industry—plastics included—will be required to demonstrate carbon footprint activity sooner rather than later. It's an extra factor for most businesses to incorporate, but it will pay to start making those calculations now."

Staying power
For their part, Power Efficiency's Mistry and Frigel's Petrakis think the new priorities are here to stay. "I think that we're at the start of this thing, and I think we've got five to 10 more years of this type of feeling where we need to do something about energy savings," Mistry says.
 
"I would say in the next 10 years, there are going to be many government mandates that are going to force total energy efficiency, total water conservation, and less chemical usage within processes," adds Petrakis.

Whether or not the changes are mandated, they will allow processors to gain more control over their process and, ultimately, their costs. "If a company is molding a part that's costing them $0.10 to make," Agentis' Stojka explains, "they know what the raw material accounts for, but what portion of that is energy? They want to know on that particular line, what's the energy cost in dollars."

Pairing wireless sensors with routers to feed data to the Internet, Agentis hopes to give customers "energy visibility," using Web-based software to show in real time how much energy their equipment is using and at what cost, among other variables.

Power Efficiency's motor efficiency control acts as a soft starter and energy regulator, taking the place of an existing starter or being installed in series.

Shown here installed, Agentis' energy monitoring systems relay consumption information wirelessly to a router, which then posts it to a Web-based interface in real time. —Tony Deligio
Sign up for the PlasticsToday NewsFeed newsletter.
You May Also Like
---